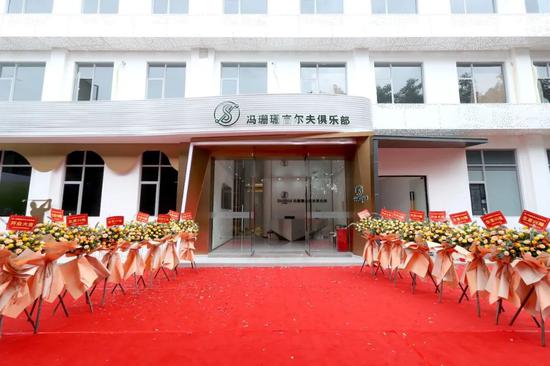 On October 8th, with clear blue sky and white clouds in Guangzhou, Feng Shanshan Golf Club opened grandly in the Lotte Valley in Haizhu District. Exclusive leading training system, advanced equipment where technology is king, fashionable and diverse fancy gameplay, and superior geographical location make it, while leading professional golf in Guangzhou, become another resort for people who love leisure and fashion sports in Yangcheng!
10月8日,广州湛蓝的天空和白云密布,冯珊珊高尔夫俱乐部在海珠区的乐天山谷隆重开幕。独特的领先训练系统​​,技术为王的先进设备,时尚多样的精美游戏玩法以及优越的地理位置,使之成为广州领先的职业高尔夫,同时成为羊城热爱休闲和时尚运动的人们的又一度假胜地!
Yuan Weimin, Honorary Chairman of the Chinese Olympic Committee, Xu Deli, consultant of China Golf Association and former chairman of Guangdong Golf Association, Wang Shouchu, former executive vice chairman of Hainan Golf Association and former senior consultant of Guangdong Golf Association, founding of Guangzhou Golf Association Chairman Li Ziliu, Founding Chairman of Guangzhou Golf Association Huang Weining, Director of Guangdong Sports Bureau Wang Yuping, Deputy Director of Guangzhou Sports Bureau Lin Yanfen, Chairman of Shenzhen Hengtaixin Technology Co., Ltd. Wang Jijun and many other heavy guests attended the opening ceremony. And together with Feng Shanshan, founder of Shanshan Sports and Chinese golf queen, cut the ribbon for the opening of the club.
中国奥委会名誉主席袁为民,中国高尔夫协会顾问,广东省高尔夫协会原董事长徐德利,海南省高尔夫协会前常务副理事长,广东省高尔夫协会原高级顾问王守初在广州成立高尔夫协会理事长李子六,广州高尔夫协会创始主席黄卫宁,广东省体育局局长王玉平,广州市体育局副局长林彦芬,深圳市恒泰鑫科技有限公司董事长王继军等众多嘉宾参加开幕式。并与杉杉体育的创始人冯杉杉和中国高尔夫皇后一起为俱乐部开幕剪彩。
   Feng Shanshan Golf Club uses the exclusive teaching system of Feng Shanshan Golf Academy for many years, combined with the Hengtaixin Golf Simulator System, to bring a brand new golf training mode. At the same time, more convenient transportation, multifunctional room settings, and the simulator's high efficiency and low threshold have drawn it closer to the general public.
凤山山高尔夫俱乐部多年使用凤山山高尔夫学院独家教学系统,结合恒泰鑫高尔夫模拟器系统,带来了全新的高尔夫训练模式。同时,更便捷的交通,多功能的房间设置以及模拟器的高效率和低门槛使它更接近于大众。
"I started to learn golf when I was in elementary school when I was 10 years old. I have been supported by many people along the way. Golf is a sport worth promoting. Through learning golf, many good qualities can be cultivated, so I have always felt that it is so good. Sports events should allow more people, especially the next generation of young people, to have the opportunity to participate. This is the original intention of my hometown of Guangzhou Feng Shanshan Golf Club." Feng Shanshan said in her speech that she hopes Feng Shanshan Golf Club In the future, one is to promote and publicize to the grassroots, so that more people can enter golf; the other is to cultivate more reserve talents for Chinese golf.
"我从10岁上小学时就开始学习高尔夫。一路上我得到了很多人的支持。高尔夫是一项值得推广的运动。通过学习高尔夫,可以培养出许多优良品质,所以我一直以来都感觉很好。体育赛事应该让更多的人,尤其是下一代年轻人有机会参加。这是我的家乡广州凤杉山高尔夫俱乐部的初衷。"冯珊珊在讲话中表示,希望冯珊珊高尔夫俱乐部在未来,一方面是在基层进行宣传和宣传,使更多的人可以进入高尔夫;另一方面是为中国高尔夫培养更多的后备人才。
   Promoting the national fitness exercise and improving the physical fitness of the general public are important issues facing sports people in 2020. In August of this year, the China Golf Association launched the Volkswagen Golf Project, advocating to use the traditional advantages of open golf outdoor sports space and non-physical contact, while empowering through innovative elements such as Internet + and smart venues to expand the golf crowd and create a healthy lifestyle. , To promote the popularization, improvement and development of the project.
促进全民健身和提高普通民众的身体素质是2020年体育人士面临的重要问题。今年8月,中国高尔夫协会启动了大众高尔夫项目,倡导利用开放式高尔夫户外运动的传统优势。空间和非身体接触,同时通过互联网+和智能场地等创新元素赋予力量,以扩大高尔夫人群并创造健康的生活方式。 ,以促进该项目的普及,完善和发展。
   This is consistent with the philosophy of Feng Shanshan Golf Club. Traditional golf is mostly played outdoors, but considering the current number of courses and geographical location and other actual conditions, providing golf crowds with indoor, simulator-like practice courses has become a high-quality solution. It is hoped that golf can break through the limitations of the venue so that this inherently inclusive sport can accept more people to participate.
这符合冯珊珊高尔夫俱乐部的理念。传统的高尔夫大多在户外玩,但是考虑到当前的球场数量和地理位置以及其他实际情况,为高尔夫人群提供室内的,类似于模拟器的练习场已成为一种高质量的解决方案。希望高尔夫能够突破场地的局限性,从而使这项天生具有包容性的运动能够接纳更多的人参加。
"I am delighted to hear that Feng Shanshan founded Feng Shanshan Golf Club. I hope it will continue to cultivate young Chinese golf talents, build a solid foundation for the development of Chinese golf, and pass on the spirit and strength of role models to more young athletes and enthusiasts, and become a sports powerhouse. The construction contributes a strength from the golf industry." At the opening ceremony, the China Golf Association sent a congratulatory letter affirming Feng Shanshan's exploration on the road to golf promotion.
"我很高兴听到冯珊珊成立了冯珊珊高尔夫俱乐部。我希望它将继续培养年轻的中国高尔夫人才,为中国高尔夫的发展打下坚实的基础,并将榜样的精神和力量传授给更多的人。年轻的运动员和发烧友,并成为体育强国。该建筑为高尔夫产业贡献了力量。"在开幕式上,亚搏娱乐入口中国高尔夫协会致贺信,肯定了冯珊珊对高尔夫推广之路的探索。
   Mr. Xu Deli, consultant of China Golf Association and former chairman of Guangdong Golf Association, presented the plaque of "Guangdong Junior Golf Training Base" to Feng Shanshan Golf Club.
中国高尔夫球协会顾问、广东省高尔夫球协会原主席徐德利先生向冯珊珊高尔夫俱乐部赠送"广东省青少年高尔夫训练基地"牌匾。
   In the past seven years, Shanshan Sports has promoted golf on campus, allowing more students to approach golf and at the same time nurturing a group of new forces. The National Federation of Sports Schools sent a congratulatory letter to Feng Shanshan Golf Club. Minister Sun Dawei presented the "National Federation of Sports Schools Youth Golf Training Base" plaque to Zheng Yuyan, chairman of Guangzhou Feng Shanshan Sports Planning Co., Ltd., commending Feng Shanshan Golf Academy for providing better quality to young people We hope that in the future, we will continue to set a benchmark and model for the integration of sports education and sports school reform across the country, and promote the development of youth sports.
在过去的七年中,杉杉体育在校园内推广了高尔夫,使更多的学生可以打高尔夫,同时又培养了一批新力量。全国体育学校联合会给冯珊珊高尔夫俱乐部发了贺信。孙大为部长向"广州凤杉山体育规划有限公司"董事长郑玉彦赠送了"全国体育学校联合会青年高尔夫训练基地"牌匾,以表彰冯珊珊高尔夫学院为年轻人提供更好的素质。我们希望未来,我们将继续为全国体育教育与体育学校改革的融合设定基准和模式,并促进青少年体育的发展。
"Although golf asks a lot from elementary school, it's a harmonious swing, a green world and a green world, and it will be the first in the Olympics in Japan!" Li Ziliu, founding chairman of the Guangzhou Golf Association, said he thanked Feng Shanshan for returning to his hometown of Guangzhou to promote golf. It is a sport with vitality and sentiment, and looks forward to: "Feng Shanshan will follow the road of golf, and make the club better and better! Strengthen learning, absorb international experience, make the club a unique feature, become the banner of China, and cultivate more Athlete who wins glory for the country!"
"尽管高尔夫对小学的要求很高,但这是一个和谐的挥杆,一个绿色的世界和一个绿色的世界,它将是日本奥运会的第一场!"广州高尔夫协会创始主席李自流表示,他感谢冯珊珊回到家乡广州推广高尔夫。这是一项充满活力和情感的运动,并期待着:"冯杉杉将沿着高尔夫之路,使俱乐部变得越来越好!加强学习,吸收国际经验,使俱乐部具有独特的特色,成为俱乐部的旗帜。中国,培养更多为国家争光的运动员!"
  Guangzhou has always had a good golf tradition and is a leading city in the development of golf in China.
广州一直具有良好的高尔夫传统,是中国高尔夫发展的领先城市。
Feng Shanshan Golf Club, which is equipped with complete facilities and equipped with Hengtai Xinyun Eye high-speed camera sensor, uses EXTRA HD high-frame teaching camera system to collect human swing data and transmit it to the server. Through big data technology and artificial intelligence recognition, it restores the user's playing action and analyzes the problem. , Improve football skills.
凤杉山高尔夫俱乐部设施齐全,并配备了恒泰新运眼高速摄像头传感器,它使用EXTRA HD高画幅教学摄像头系统收集人体挥杆数据并将其传输到服务器。通过大数据技术和人工智能识别,它可以恢复用户的游戏行为并分析问题。 ,提高足球技巧亚搏娱乐入口。
   The core concept of "fun + professional", in conjunction with the simulator, saves golf enthusiasts' time and cost of playing off the court, so that more student groups can easily hone their skills by simulating the end of the game after school.
"乐趣+专业"的核心概念与模拟器相结合,节省了高尔夫爱好者的时间和在球场外的比赛成本,因此,更多的学生团体可以通过放学后模拟比赛的结束而轻松地磨练自己的技能。
   The multi-functional hall with simple design, elegant environment, multimedia equipment support, can be used for business negotiation, company meeting, friends gathering and other scenes. It can be said that this is not only golf, but also a fashionable and healthy life related to golf. The traditional golf sport with a history of hundreds of years is opening up outdoor and indoor, online and offline through smart devices, providing more convenient and diverse ways for public fitness, and achieving the vision of serving more people!
多功能厅设计简洁,环境优雅,多媒体设备支持,可用于商务洽谈,公司会议,朋友聚会等场合。可以说,这不仅是高尔夫,而且是与高尔夫相关的时尚,健康的生活。具有数百年历史的传统高尔夫运动通过智能设备开放室外和室内,在线和离线,为公众健身提供更方便和多样化的方式,并实现为更多人服务的愿景!
   The Lotte Smart Valley where Feng Shanshan Golf Club is located is a high-tech industrial smart park with artificial intelligence, Internet + smart technology, and digital economy as the leading industries. Wang Jiexia, President of Lotte Smart Valley, said: "Feng Shanshan Club combines artificial intelligence, VR and immersive experience. It is a very novel form. It is of great significance to enter the park. It can provide a good sports platform for entrepreneurs in the park and will also Bring new vitality to the entire city!"
冯杉杉高尔夫俱乐部所在的乐天智能谷是一个高科技工业智能园区,以人工智能,互联网+智能技术和数字经济为主导产业。乐天智能谷总裁王洁霞说:"冯亚搏娱乐入口杉杉俱乐部融合了人工智能,虚拟现实和身临其境的体验。这是一种非常新颖的形式。进入公园具有重要意义。它可以为园区内的企业家提供一个良好的运动平台,也将为整个城市带来新的活力!"
   Convenient transportation location shortens the distance between the public and golf; intelligent equipment and unique forms make golf a brand-new lifestyle for urban fashionable people.
便利的交通位置缩短了公众与高尔夫之间的距离;智能设备和独特形式使高尔夫成为城市时尚人士的全新生活方式。
   Throughout October, Feng Shanshan Golf Club is open for free, the latest trendy landmark of Guangzhou's national fitness, invites you to indulge in a swing!
整个10月,枫杉山高尔夫俱乐部免费开放,这是广州国民健身的最新时尚地标,诚邀您尽情挥杆!